Description
Erection Anchors
Erection anchors are structural components used in construction to secure steel columns or other components to a concrete foundation or another structural base. These anchors are designed to provide a secure and reliable connection between the steel and concrete elements, ensuring that the structure can withstand the forces and stress that it will encounter during its lifespan. Erection anchors typically consist of a threaded steel rod or bolt, which is embedded in the concrete and secured with an epoxy adhesive. The top of the anchor is then attached to the steel component using nuts and washers, providing a strong and stable connection that can resist lateral and vertical forces. Erection anchors are essential in the construction of large buildings, bridges, and other structures where steel and concrete are used together to provide strength and stability. They play a critical role in ensuring the safety and integrity of these structures, making them a vital component of modern construction practices.
Various general styles
Our factory has a variety of general styles, our price is half cheaper than ALP, AMIFAST, and other companies, please contact us for the latest quotation. Anchorage in concrete is achieved through the rebar tails. Longer anchors with additional holes can be produced on request. Our styles are varied.
| | | | | |
| --- | --- | --- | --- | --- |
| | | | | |
| Split Foot Erection Anchor | Split Foot Erection Anchor with Shear Plate | Tech erection anchors | Tech erection anchors with shear plate | Forged erection anchor |
| | | | | |
| Forged erection anchor with bar | Split foot 1-ton anchor | Y erection anchor | Insulated panel anchor | Insulated panel anchor with plate |
| | | | | |
| Erection head anchor | Erection head anchor with shear plate | 1T spread anchor | Forged Insulated Panel Anchor | 1Ton L-Anchors |
| | | | | |
| Plate Anchor | Spread Anchors | T-Bar Anchor | Tech Anchors | Two-Hole Anchors |
Erection Anchors Feature
Erection anchors, also known as anchor bolts, are commonly used in construction to secure structural elements such as columns, beams, and walls to a foundation. The threaded design, customizable length and diameter options, material options, galvanized or coated options, and strength capabilities make erection anchors a versatile and effective solution for securing structural elements to a foundation in construction projects.Here are some features of erection anchors:
Threaded design:
Erection anchors feature a threaded design that allows them to be easily installed into the foundation material, such as concrete.
Hexagonal or square head:
The top of the erection anchor typically features a hexagonal or square head that provides a secure grip for tightening the nut and washer onto the anchor.
Length and diameter options:
Erection anchors come in a variety of lengths and diameters, allowing them to be customized to fit the specific needs of the construction project.
Material options:
Erection anchors are typically made of high-strength steel or stainless steel, which provides excellent durability and corrosion resistance.
Galvanized or coated options:
Some erection anchors are galvanized or coated with a layer of zinc or other materials to provide additional protection against corrosion and rust.
Tensile and shear strength:
Erection anchors are designed to provide both tensile and shear strength, which allows them to withstand the weight and forces exerted by the structural elements they are securing.
How to use
First, make sure that the concrete surface is clean and free from debris.
Identify the location where the erection anchor needs to be installed and mark it accordingly.
Drill a hole in the concrete surface where the anchor will be placed, making sure that the hole is the appropriate size for the anchor.
Insert the erection anchor into the hole in the concrete, making sure that it is properly seated and secured in place.
If necessary, tighten the anchor using the appropriate tools to ensure a secure fit.
Once the anchor is in place, attach the necessary hardware, such as a lifting eye, to the anchor to facilitate the lifting and placement of the precast concrete element.
Once the precast concrete element is in place, the erection anchor can be removed if necessary.
It is important to note that the specific instructions for using precast concrete erection anchors may vary depending on the type of anchor being used and the application. Always make sure to carefully read and follow the instructions provided by the manufacturer to ensure the safe and effective use of the product.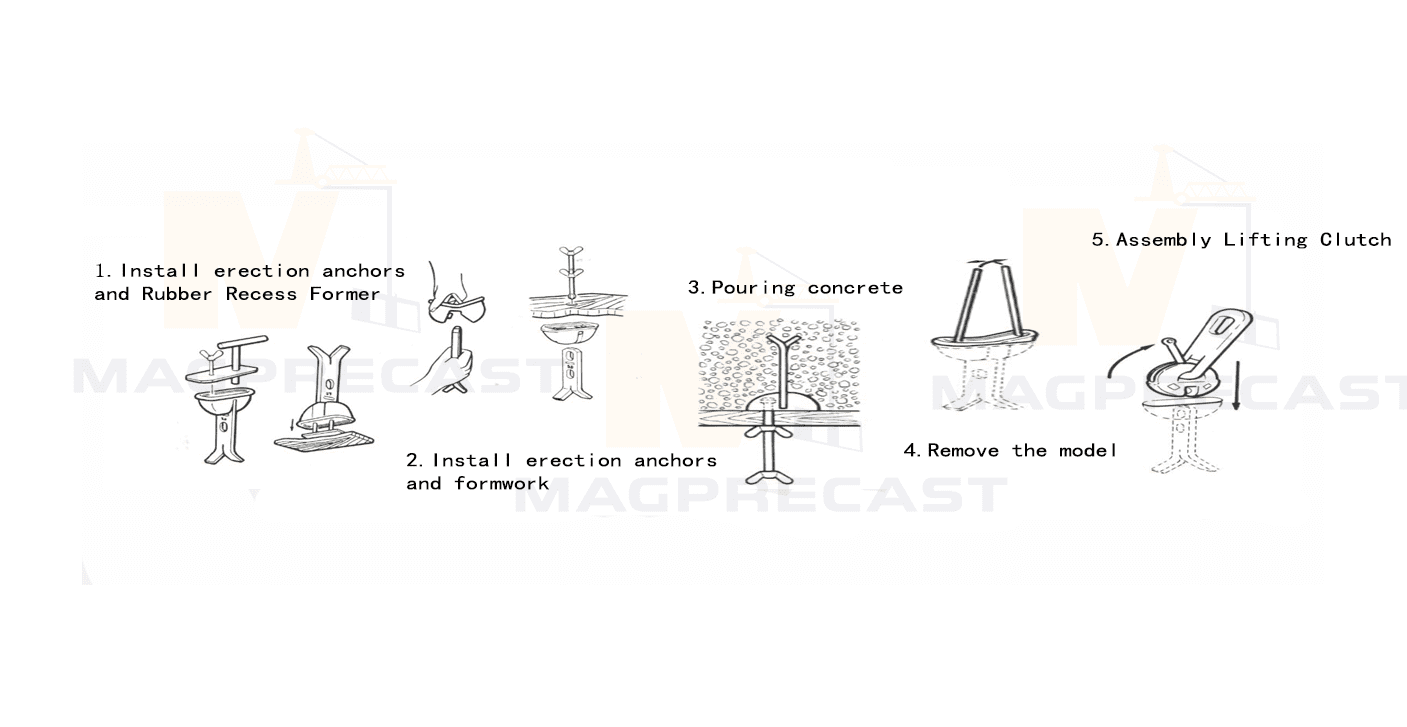 Our Advantage of Erection Anchors
We have a group of professional engineers who can design according to the needs of customers and can also provide you with professional precast concrete suggestions to make your project go smoothly.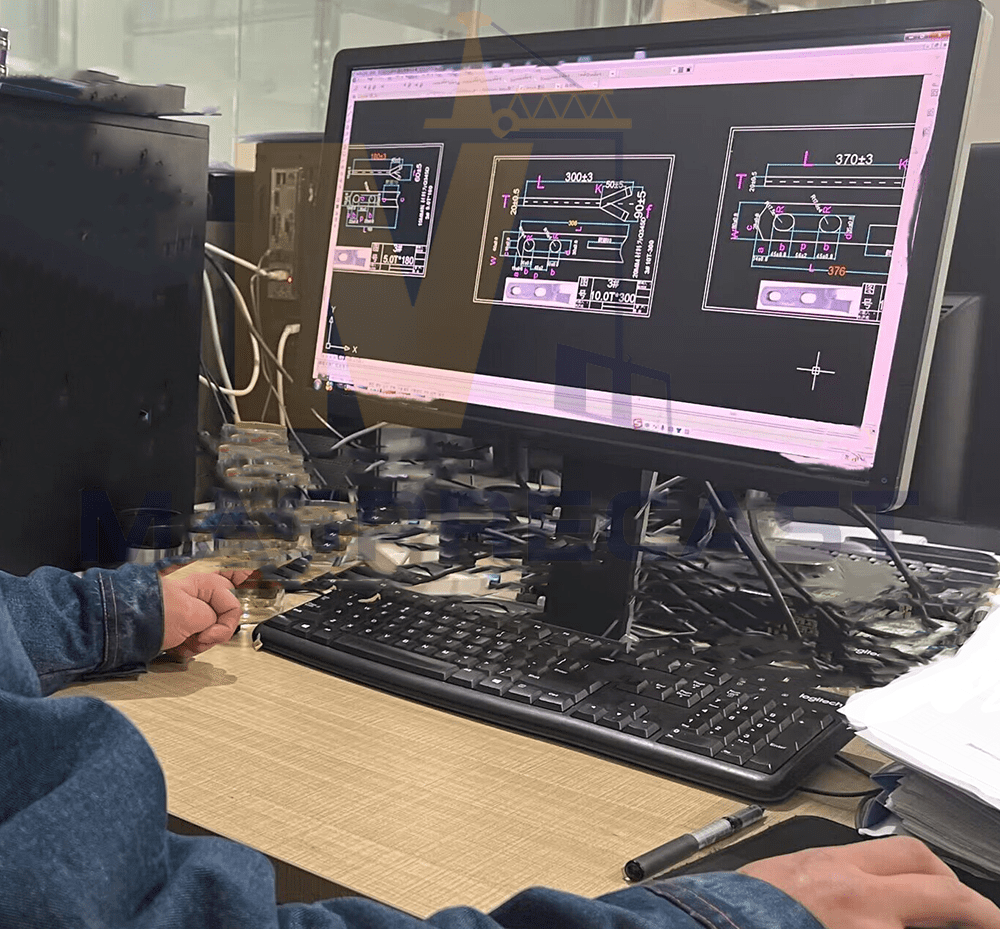 Package
Our packaging meets the needs of customers, if you have other needs, please let us know. We will do everything we can to satisfy our customers.
After all the products have been tested and meet the requirements, they will be boxed, packaged, and shipped by special personnel. Please rest assured to place an order, our packaging will satisfy you
Our Factory:
Our factory has decades of production experience, accepting orders from all over the world, professional production equipment and several professional engineers, to ensure that every customer is satisfied with our erection anchors.