Description
Magnetic steel chamfer
A Magnetic steel chamfer has been used in the precast concrete industry for several decades. They can handle extreme working conditions and are used to attach steel surfaces. They were designed to create beveled edges on the corners of concrete wall panels as well as some formwork. There are two commonly used shapes: triangle and trapezoid. Magnetic strips for precast concrete are one of the most versatile accessories used in the precast concrete industry. They come in several different sizes and can be fully customized to suit a manufacturer's specific requirements.
Single sides vs. double-sided
Not sure when to use which? Opt for the single-sided chamfer if you're attaching one steel surface at a time, like a steel table or a steel faceplate. Use the double-sided chamfer when you're working with two neighboring sections of steel to ensure everything is kept in place.
The Magprecast magnetic steel chamfer at a glance
Delivery Time: 7days
Brand Name: Magprecast
W.: 1.1 kg per meter
Material: Rubber, Q215, Q235 Iron Parts, Neodymium Magnets
Surface Treatment: Magnet Galvanized or NiCuNi Plated
Max Working Temperature: 80℃
Safety instructions
The suction power of the chamfering bar is lower than shuttering magnets, but the suction power is incredibly still strong, and misuse can cause bodily harm or harm to the magnets or the working environment. While our magnetic steel chamfers are user-friendly, like anything, taking a little extra precaution will not only protect you but the chamfer as well. Below are our safety recommendations for before, during, and after use.
Do not place the chamfer vertically because the strong impact force may cause the magnet to break. Instead, put the chamfering bar on one side first, and then gently set it into place.
Although the magnet and steel have undergone anti-rust treatment, long-term uncleanness may make the cement adhere to the chamfered strips and be challenging to remove. To keep your chamfers lasting longer, clean after each use and apply an anti-rust oil to keep them in their best working condition.
The maximum operating or storage temperature must be below 80 ° C. Higher temperatures may cause the chamfer bar to decrease or completely lose its magnetic force.
Keep it away from electronic instruments (mobile phones, laptops, tablets, computers) and unnecessary ferromagnetic metals.
Extra caution must be taken if using the chamfer around someone wearing a pacemaker. Triangle Steel Chamfer have extremely strong magnetic fields that could potentially damage the electronic devices inside the pacemaker.
If any concrete or other debris attach to the chamfer always be sure to remove it quickly. If you notice any caked-on concrete, gently scrape or buff it away.
You always want to keep the mold table smooth. The strong suction force will cause the magnet to deform if there is a hard object between the magnet and the mold table.
Always handle the Triangle Steel Chamfer with care. When you're done using it, stack it gently to prevent snagging or catching your hands and fingers.
We recommend storing the chamfer in on a plastic or rubber rack. You should have easy access to the chamfers.
Avoid sun exposure. Higher temperatures may cause the magnetic steel chamfers to drop or lose their magnetic force altogether.
Keep the surface clean. Although both the magnet and steel have been treated with anti-rust protection, failing to properly clean the magnet can cause the cement to adhere to the chamfered strips and be difficult to remove. Therefore, it is strongly recommended that users clean and grease after each use. Although the steel surface has an anti-rust coating, the concrete is alkaline corrosive and will corrode the steel surface after a long time.
Benefits of magnetic steel chamfers
Reusable and long-lasting
Magnetic encased in steel with an incredibly high adhesive power
Improve yield rate and quality of precast concrete wall
Easy to operate, the magnet won't pull or tug under regular use
They leave no open grooves to fill with the concrete.
Quick to position, remove and clean
No screws, bolts or welding necessary to accurately position chamfers on formworks, meaning no dents, holes, or cuts on the formwork tables.
Our chamfers are designed to work with steel beds or steel faceplates and can be effortlessly mounted to most types of precast rail-frames.
Compared with the traditional chamfering bar, the strong suction force can ensure that the chamfering bar will not move when watering.
Convenient for scale, standardization, and mass production.
Application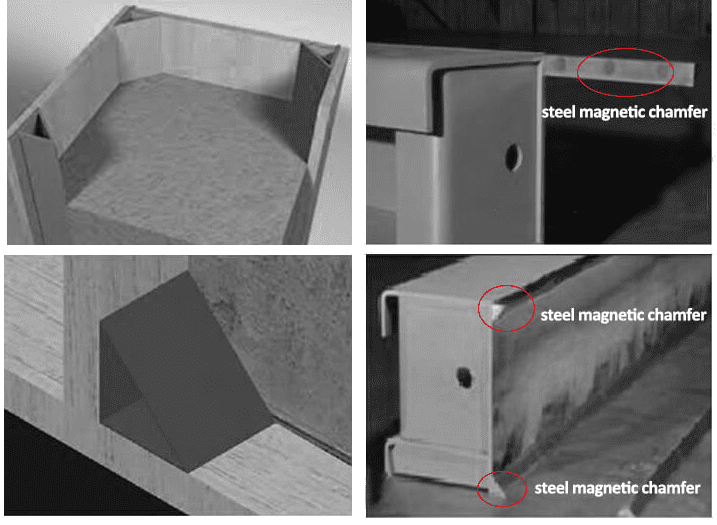 Why choose Magprecast?
While there are other magnetic steel chamfer on the market, at Magprecast, we take the extra effort to guarantee the most durable, most reliable, and long-lasting chamfers in the business. How do we do it? Our engineering team are masters in Neodymium magnets, which is the most critical component to the chamfers. We have an educated, talented, and hard-working team here at Magprecast, each an essential part of our daily operations.
We use the highest-quality materials to create long-lasting, functional, and easy to use Triangle Steel Chamfer. All of our chamfers undergo a QA test before we package them up and ship them out. We test the functionality, quality, and durability. Consistency is key here. We will never ship any sub parr or damaged chamfers.
In our efforts to create a seamless shopping experience, we have various sizes in stock, and some are available for same-day shipping. If we don't have the exact size you're looking for; we will manufacture a custom triangle Steel Chamfer upon request. We have options including 50% magnet, 100% magnet, one side, and two-sided Magnetic Steel chamfers available.
Customized magnetic steel chamfer
We use N series grade magnets in our chamfers that shouldn't exceed over 80° C. We understand that some may need chamfers to endure a much higher temperature. Do you require the working temp of your chamfer to exceed 80° C? Let us know, and we can create a customized chamfer to withstand higher heat.
Our packaging
At Magprecast, we're pulling out all the stops for our loyal customers. One of our primary concerns is ensuring we deliver our chamfers safely. We ship all around the world, and our chamfers have a long journey more often than not. We use a specialized packing system following all the safety requirements put in place by the post office to protect the postal workers and our product. Each of our chamfers is hand wrapped and carefully placed in the box before they leave our warehouse. While chamfers may be strong, they can still be damaged in the post. Our unique packaging keeps the integrity of our chamfers intact.