Description
The MAG U60 Pro is the easy to use and budget-friendly magnetic shuttering system for manufacturing girder slabs and double walls. Leading plants around the globe have been using these proven systems. Our MAG U60 Pro Magnetic Formwork System are tailor-made to order. Whatever your requirements may be, we will custom make a system to meet your needs. We offer several advantages like robot handling, different chamfering options, bearing fixtures, custom sizing, and more. The MAG U60 is made with the industry's leading materials to guarantee reliability, functionality, and durability.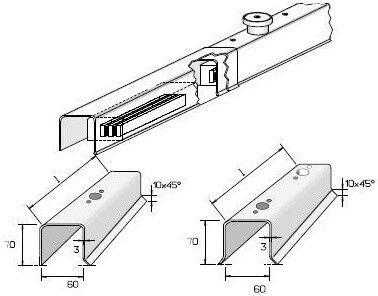 Formwork Magnet Introduction
Magnetic formwork systems help workers in the reinforced concrete industry do their jobs better, more comfortable, and safer. The prefabricated construction industry is on the steady incline. Magnetic products like shuttering systems and ferrule insert magnets are used to mount inserts to a steel form with magnets, instead of drilling holes. These unique systems have changed the production of precast concrete components. The magnets can be directly embedded in the formwork, making them more convenient, more efficient, and more stable.
Using the intense adhesive force from the magnetic block, the formwork remains in close contact with the template, allowing whichever formwork system that needs to be fixed, to stay put. Because the steel formwork and magnetic blocks are united, no movement will occur. Even the slightest movement can cause the formwork system to deform.
Magnetic Formwork System are simple. They don't require much of a learning curve, and they've helped to make the prefabricated construction industry environment safer and more stable. With the matching pry bar, the formwork magnet can be picked up, and the steel formwork can be easily removed from the template. Since the magnets are located inside the steel formwork groove, concrete residue or other dirt will not cause damage to the formwork system.
U-profile Concrete Shuttering System – All You Need to Know
Our precast concrete formwork magnets are made from steel formwork and embedded magnets. The U-profile Concrete Shuttering System is custom made to order. Customers can choose which size they want, with or without slots, and whether or not they want one chamfer, two chamfers, or without any.

Our magnetic shuttering systems are made with high-performance magnetic inserts and high-grade steel. The shuttering system comes with a chamfer on both sides of the system, on one side, or none at all. We can configure the system to any length and height our customers require.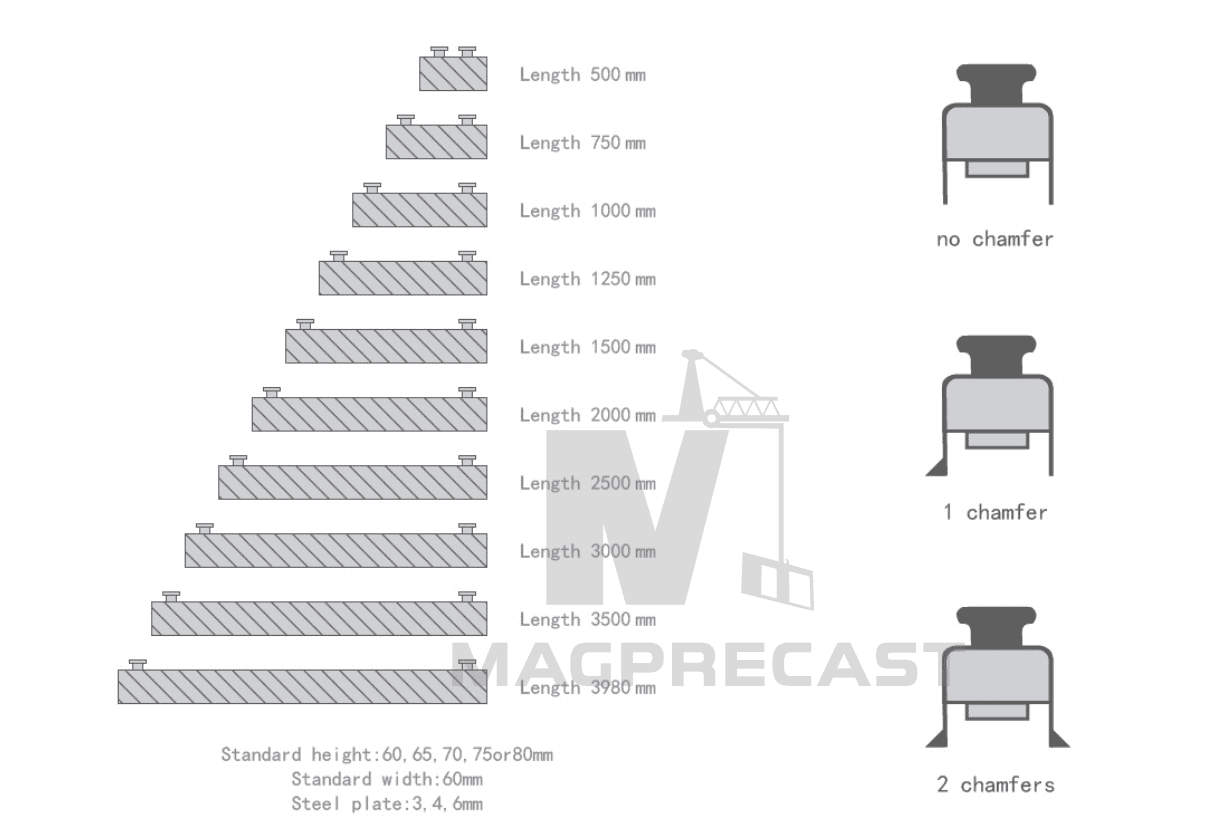 Quick Facts About Our Magnetic Shuttering System:
Easy positioning
Can be used with current shuttering robots or activated by the push of a button
Easy to use
High working temperature
Corrosion-resistant
Can be used in element slab and double wall manufacturing
We can create special sizes and heights upon request
The magnet quantity is adjusted for each shuttering
Made to last, extremely reliable and durable
Easy to remove with the matching pry bar
Concrete residue and dirt won't cause damage to the complete formwork system
Choose between U60 0 Chamfer, U60 1 Chamfer, and U60 2 Chamfer
Formwork Production Technique
The U-profile Concrete Shuttering System is constructed with an iron plate using a unique folding machine. The folding mechanism is what creates the double groove chamfering, single groove chamfering, or our no chamfering options. We also use hand soldering equipment to weld formwork magnets that are between 2-3 m. Our equipment can handle the production of formwork magnets with heights that reach over 100mm.
Formwork Material and Treatment process
Below is an overview of the specialized treatments we use during production to ensure your magnetic shuttering system you purchase from us last you for a long time. We use a blend of aluminum alloy and stainless steel for their incredible reliance and ability to withstand extreme temperatures and wear and tear. We also apply special treatments to prevent our systems from rusting and corrosion. These systems are incredibly easy to maintain since we already pre-treated them.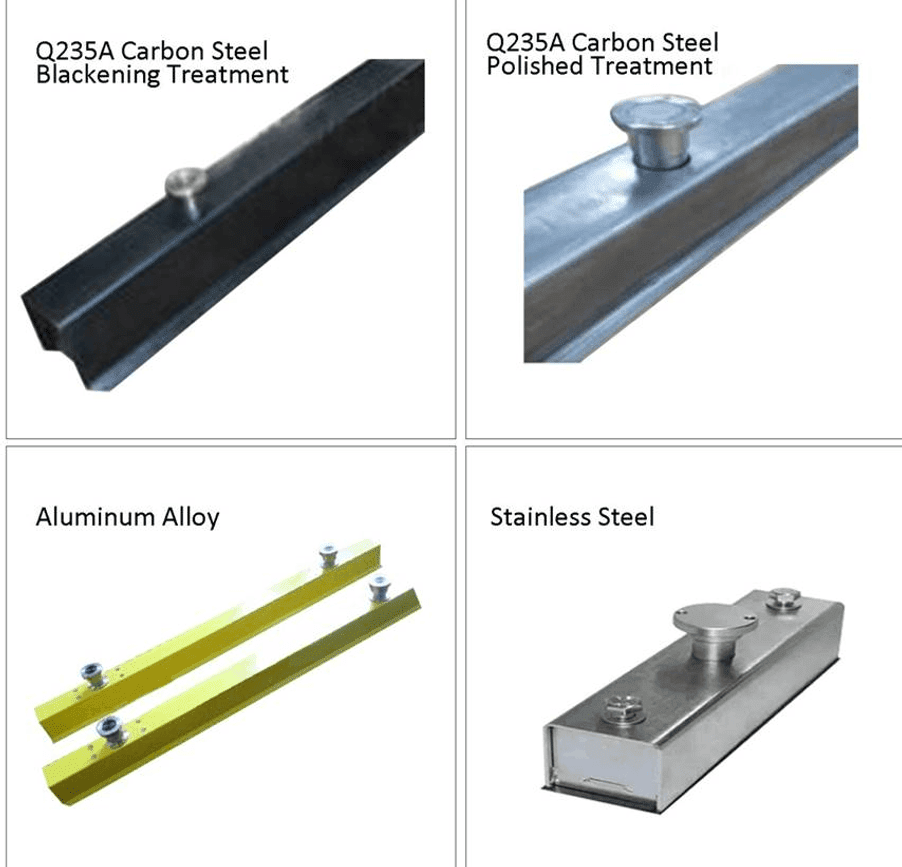 Q235A Carbon Steel, Blackening Treatment
Q235A carbon steel has better magnetic flux than stainless steel and is much more cost-effective. It's commonly used in chemical surface treatments. The purpose of the blackening treatment is to create an oxide film on the metal surface with isolates the air and forms a strong anti-rust barrier.
Q235A Carbon Steel, Polished Treatment
Some customers are concerned that the oxide layer on the exterior will have an effect on the cement surface. To ensure every aspect of the cement surface is safe, we apply a unique polishing treatment.
The aluminum alloy formwork magnet is made up of aluminum alloy formwork and embedded magnet blocks. Due to unique processing technology, aluminum alloy formwork is incredibly strong. The risk of bending, bruising, and deformities are minimal compared to steel or stainless steel. Aluminum alloy continually deliveries outstanding consistency and stability. The weight of the formwork is reduced as well, making it easier to maneuver and work with.
The stainless steel formwork magnet is composed of stainless steel formwork and an embedded magnet blocks, which is lightweight and convenient for the operation of the mechanical arm.
Magnetic Formwork System Us vs. Our Competitors
Our top of the line production equipment gives us a leg up on our competition. We use a supreme magnetic solution and the highest quality raw materials to produce our products.
We pride ourselves on excellent customer service and strive to give our clients the very best. Our testing lab is equipped with state-of-the-art measuring and testing machinery. The QC department works tirelessly to ensure ongoing development and maintain our high standards of quality. It's our promise to you to fulfill each customer requirement within all applicable regulations. We will work with you to create custom products with supreme quality to better your working environment.
Packaging