No doubt, precast concrete has revolutionized the construction industry. They have made it possible for contractors and engineers to reduce the total project duration significantly. Precast concrete is the best way of building large and complicated structures that may be difficult to construct on-site.

Concrete has so many material benefits such as its thermal efficiency, weather resistance, durability, and strength. Lastly, concrete has a characteristic weight that can be a blessing and a curse. This is where lifting and handling heavy precast concrete products becomes a challenge. However, if you have the right lifting systems, then this can help make your job a lot easier.
Knowing how to handle and ship your precast concrete structures is usually a key project activity. Not dedicating enough resources to this important activity can be risky and threaten the entire project.
What is precast concrete?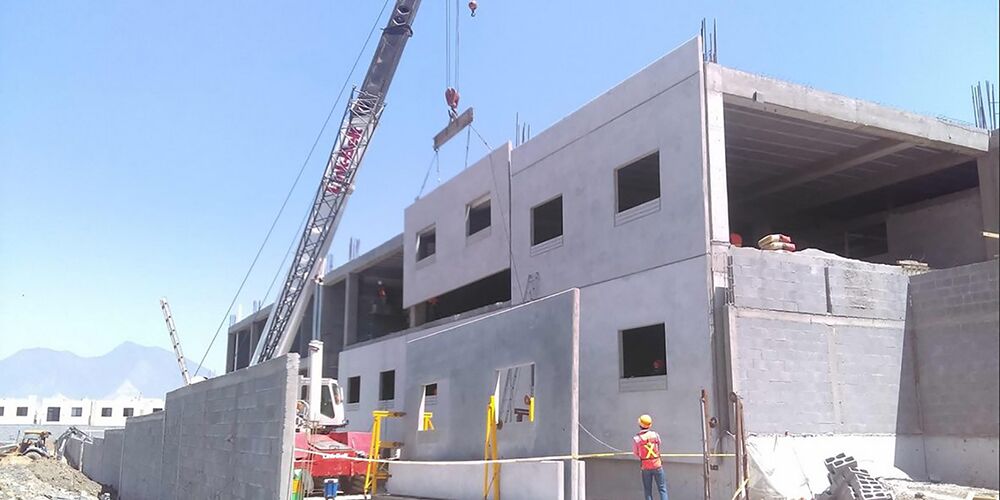 Precast concrete is a special type of concrete that is prefabricated in a casting yard or a different part of the job site before been taking to its final place of installation. This is a very common construction method used for bridges, aqueducts, tunnels, viaducts, apartments/duplexes, and so on. A precast concrete member can also be used to replace previously cast concrete structures. In this case, they are not cast in their final installation points, but somewhere close by within the job site.

Apart from the job site, precast concrete is usually made in a construction yard or a prefabrication workshop. A client can decide to have special concrete members put together in a controlled environment – to ensure that all the right specifications are met.

In some cases, project requirements may demand that key concrete structures be cast with certain parameters. This could be temperatures, the addition of chemicals, the absence of sunlight, and so on. In this case, the concrete structure is cast in a controlled site before it is transported to the project site for installation.
Handling and shipping of precast concrete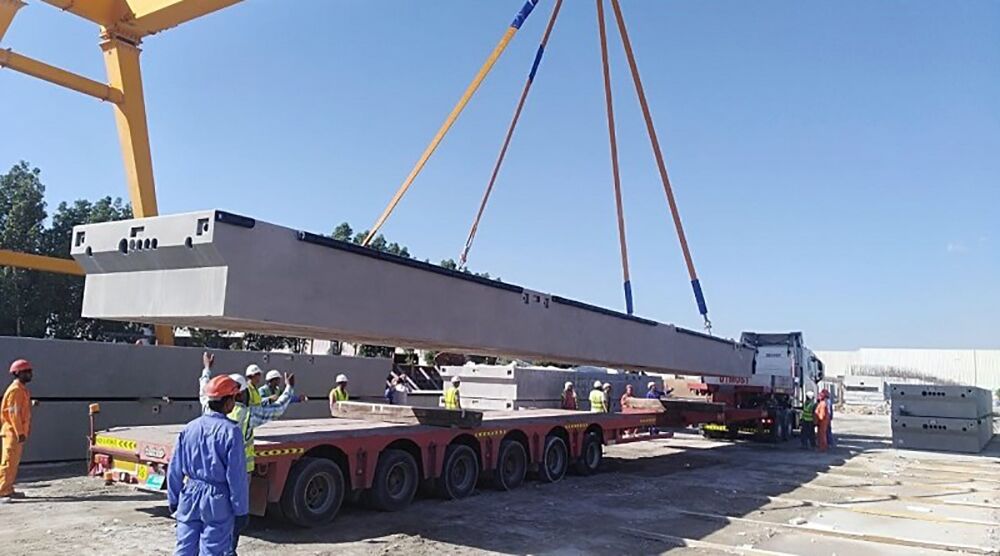 There are a lot of benefits to casting concrete in a controlled environment before taking this to the site for final installation. However, there is a great challenge involved in handling precast concrete. There are different forms, shapes, designs, and styles of precast concrete. Each one has to be handled the right way to avoid accidents and damage to the precast structure. This means that each precast members have to be offloaded, handled, and loaded the right way.
How heavy is a concrete structure
The average weight of a concrete structure is 2400 kilograms for each cubic meter. This is more than three times heavier than a similar volume of a timber-made structure. A standard precast concrete member with dimensions 450 x 450 x 450 can weigh as much as 280 kilograms. This structure is heavy enough to cause a lot of damage if it is accidentally dropped. With such heavy items, engineers, contractors, clients, and customers must insist on the right lifting systems. This ensures that the project adheres to correct safety methods for lifting, handling, and moving concrete members.
Risks involved in using poor precast concrete lifting systems
Many prefabricated concrete products are heavy and strong. This means that you have to plan and coordinate properly to ensure that the concrete product is handled the right way. Not using the right lifting machine and systems can be a huge safety risk for everyone present in the prefabrication yard and job site.

Precast concrete products can be extremely heavy, therefore, it is required always that ample safety measures be followed. If the handlers fail to use appropriate lifting systems or tools or techniques, there could be product or machine damage, breakages, product failure, injury to site workers, and so on. During transportation, the precast concrete products are lifted to a certain height with adequate clearance to avoid collisions. Using the appropriate lifting systems help you avoid all types of risk involved during this activity.
Lifting the precast concrete products
When it is time to deliver the precast concrete structure to its installation area, it must be handled properly. Prefabricated concrete products have special lifting machines for handling and transportation. Excavators, forklifts, and cranes are the preferred and recommended equipment used for lifting precast concrete members. The equipment uses slings or chains that have been attached to the concrete products through special lifting loops, clutches, or anchors. These are special concrete embeds that make it very easy for concrete to be lifted. These important lifting systems make it easier for regular and irregular precast concrete structures to be lifted and handled safely.
Precast concrete products: Recommended lifting methods
Lifting concrete with forklifts: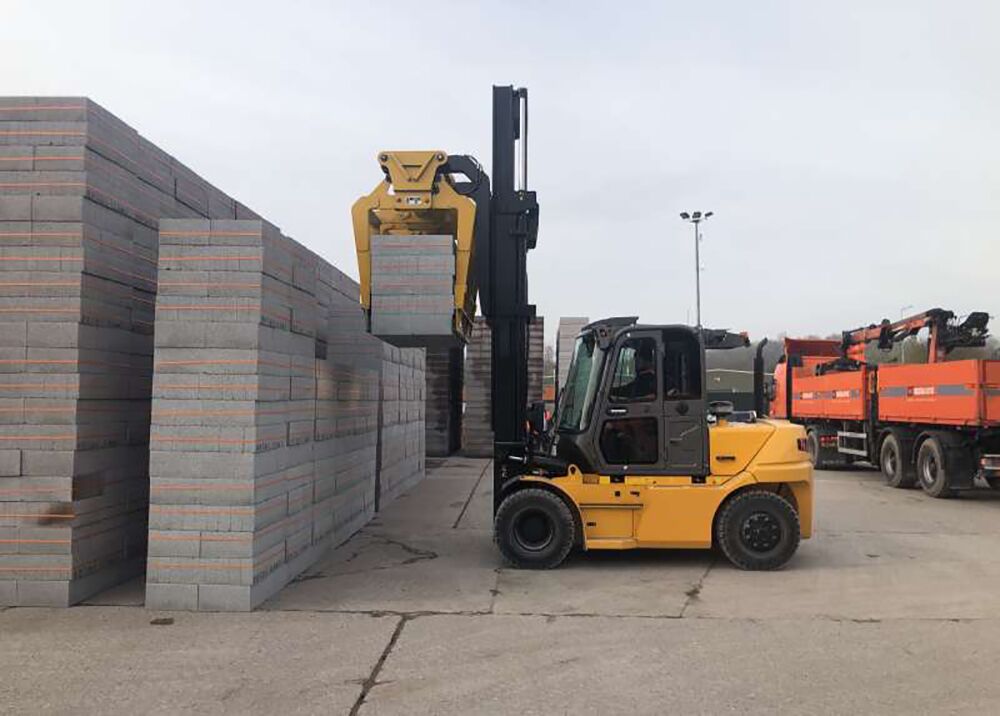 Forklifts are usually used to lift and transport small and medium-sized concrete members. This is a preferred lifting method when it comes to moving the concrete members in the factory or precast yard.
Lifting concrete with cranes: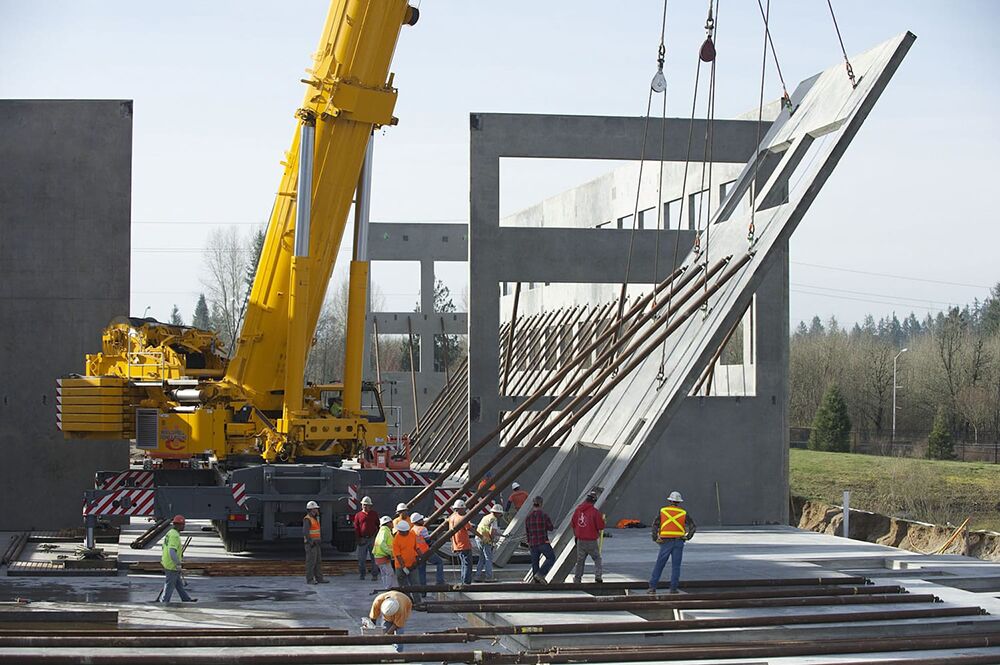 Cranes are the standard machine for lifting and installing precast concrete structures on site. This is a preferred machine/equipment for assembling bridges, modular houses, viaducts, and so on. This equipment is the best option when it comes to lifting heavy concrete structures. It can be used to lift all types of concrete members regardless of weight, style, shape, and size. Different cranes are used depending on the parameters of the precast concrete structure. To make the lifting process easy, special lifting systems are used. This includes lifting clutches, anchors, loops, and so on.
Lifting concrete with excavators/backhoes: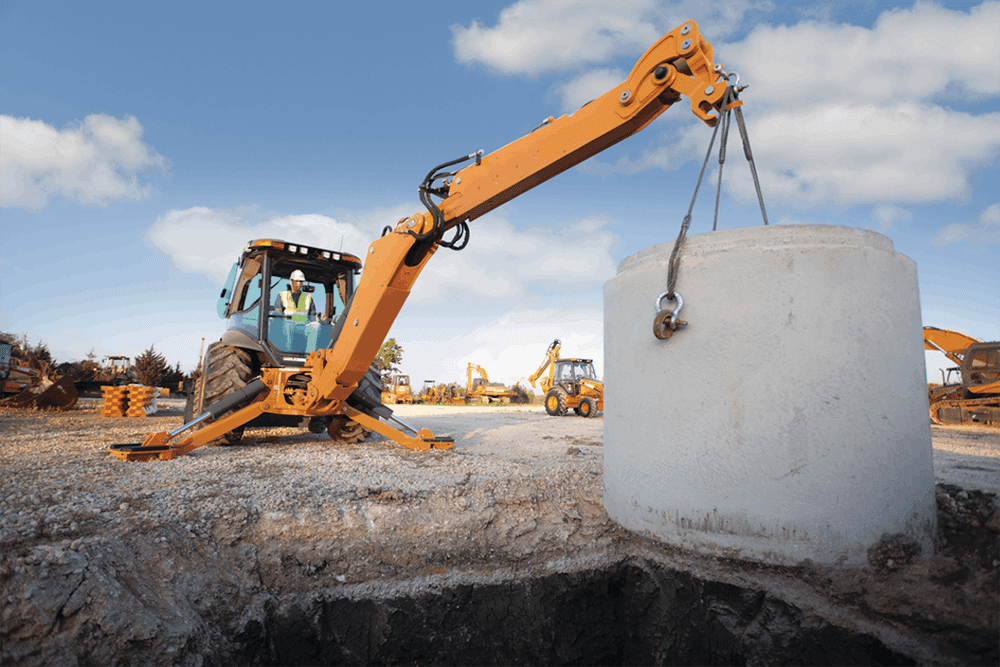 Precast concrete structures are also used to lift precast members on-site. However, this lifting method is limited and may not work for all types of concrete members.
Lifting systems for precast concrete products: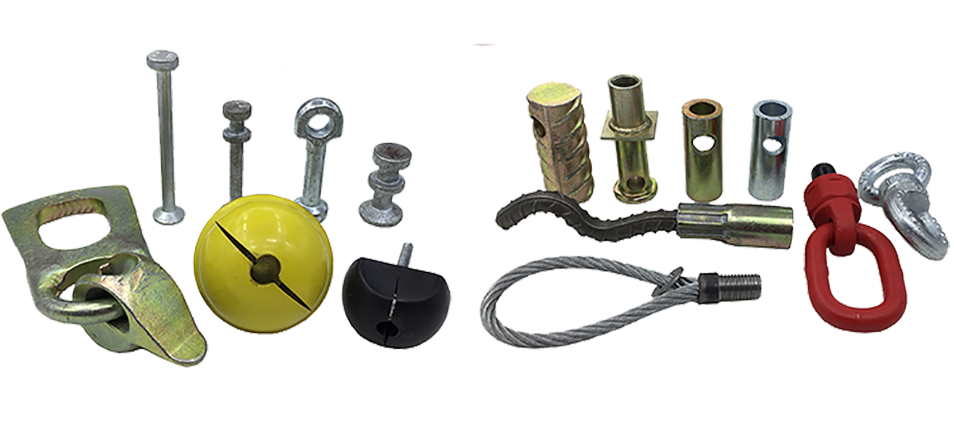 When handling and transporting precast concrete products, it is imperative for lifting hooks to be used. Concrete handlers need to follow recommended lifting procedures when handling precast concrete products. When it comes to lifting systems for precast concrete products, the most commonly used are lifting anchors and clutches.
Lifting anchors for precast concrete products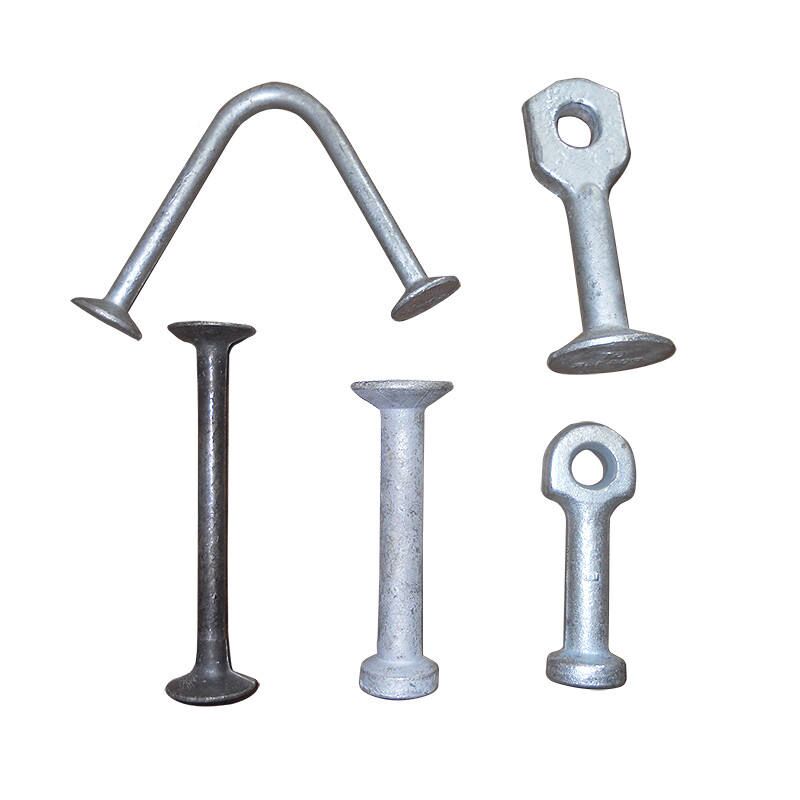 during the lifting process, a lifting anchor will safely absorb the various impacts from assembly, lifting, and handling. A lifting anchor must meet the standard requirements to ensure quality and serviceability. This means that the safety factor should be adhered to.

A lifting anchor for precast concrete products is usually cast into the concrete product during the process of production. This makes it easy for the concrete product to be lifted easily as it allows for flexible insertion of the various lifting points. Lifting anchors are available in different sizes to cater to different load ratings. This is why they are usually preferred to lift a wide range of precast concrete products. These special anchors are usually made from high-quality steel materials to ensure that it handles various loads efficiently.
Lifting clutches for precast concrete products
A lifting clutch works in the same way as the lifting anchor systems. They are used with the same corresponding size as the lifting anchor. Lifting clutches are essential when it comes to lifting various precast concrete products. A lifting clutch can be used to lift several precast elements such as concrete panels, culverts, road barriers, pits, pipes, noise walls, and bridge beams.

Just like lifting anchors, lifting clutches are classified by tonnage. This describes the amount of weight they can handle. Lifting clutches are commercially available in a range of working load limits. Many professionally-made clutches have been exclusively designed and approved for use with anchors. They have been designed efficiently to prevent disengagement while the system is under the influence of a load. A lifting clutch is also designed to prevent failures due to the orientation of the precast element.

A lifting clutch is designed with the best alloy steel materials. Their style of design ensures that they are securely engaged and disengaged from the lifting anchor as needed. Before they are certified for commercial use in construction sites, they are subjected to various tests and inspections. The test certificates are usually supplied with tags when delivering the clutches to the customer or client.
One common type of concrete precast lifting clutch is the ring clutch. This type of precast concrete lifting system is made up of a curved bolt handle, a clutch, and a bail. The ring clutch promotes easy attachment with the lifting anchor.
Lifting loops for precast concrete structures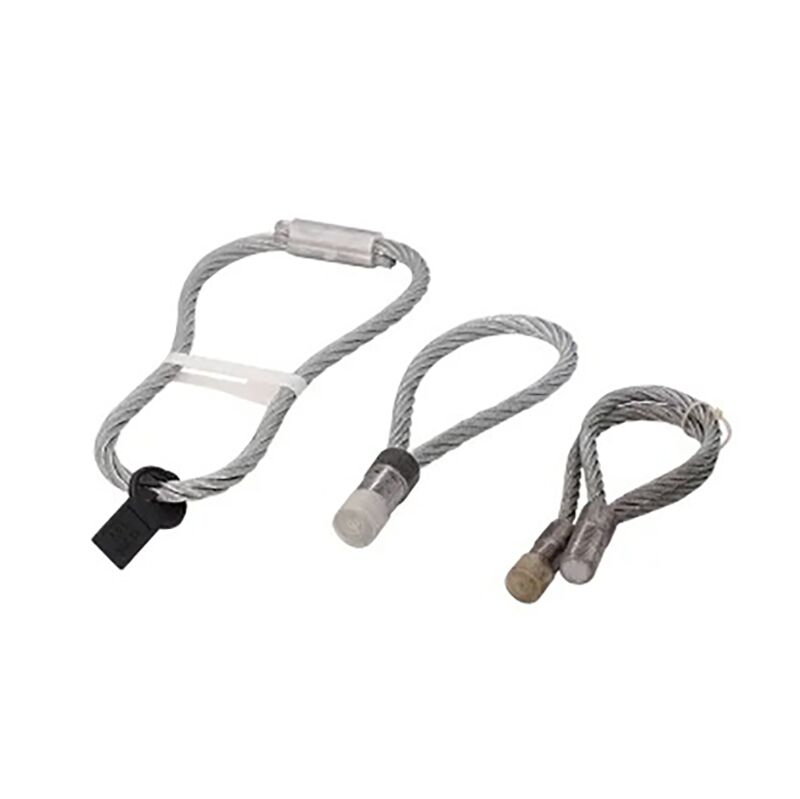 Lifting loops are threaded ropes made from tough steel that are hooked onto lifting anchors before the precast concrete product is moved. A lifting loop is an economical and flexible key used for lifting and handling precast concrete products. Lifting loops are made in such a way that they can handle parallel shear and tensile concrete loads up to an orientation angle of 45 degrees.

If you are looking for a cost-effective way of lifting almost any type of precast element, then a lifting loop is your best option. These special precast concrete lifting systems come with various sorts of threaded inserts for lifting. A lifting loop is usually made from high-grade steel wire. This is then attached to a steel ferrule which makes for a reliable and strong lifting device. A lifting loop can be re-used for successive lifting and handling of precast elements.

However, they have to be checked for possible damages before lifting any precast concrete element. Many lifting loops are fully certified to ensure that they have been made according to the necessary standards and quality checks. They are differentiated with parameters such as SWL (safe working load) ratings, thread lengths, wire rope diameters, thread sizes, and so on. This way, users can reliably identify the various types of lifting loops. They are also supplied with special tags that help identify their specifications and parameters.

To handle and transport the precast elements effectively, the lifting loops along with lifting sockets. However, it is recommended for handling precast concrete elements in the tilted position. For handling concrete materials in tilted positions, lifting eyes and swivels is usually recommended. Lifting loops are suitable for also lifting and handling prestressed concrete materials.

A lifting loop is a fully-engineered solution that is reliable and safe when lifting precast elements. They can be used for diagonal and axial lifting of concrete members. Many of these loops feature color codes to aid visual checks and inspections. For durability, they are made from engineered galvanized steel to resist corrosion, wear, tear, and breakages. Many safety lifting loops are supplied to modern projects where the contractor may not need specialist equipment or lifting clutches. Many loops come with suitable designs to be used with standard lifting shackles or hooks.
Important tips for moving and handling precast concrete products
1). Since most precast concrete members are large and heavy, each project needs to create a strategy for moving these structures. An effective plan can help create an effective and easy methodology for moving precast elements through a job site. Since many job sites are usually congested, the precast concrete product can be lifted to a certain height. Proper planning will help ensure that the precast product is lifted effectively and safely.

2). Precast lifting systems should be checked before each use. There are usually manufacturer instructions or pictures to show how each lifting device should appear before use. If there are any deviations from this, then it should be adjusted or other alternative lifting methods be used. The project needs to avoid potential risks in order not to delay the project.

3). Lifting systems are a key component in moving precast concrete products. It is essential to check various important elements such as clutch/hook engagement, orientation, installation, application, selection, and load surface condition. Carrying out necessary checks before handling or moving precast products with lifting systems will help prevent product failures and other forms of risks.

4). After the precast member has been moved to its proper location, it is important to remove the lifting embellishments. This is important if the concrete structure will be attached to another construction element. There are various manufacturer instructions on the proper removal of lifting inserts.